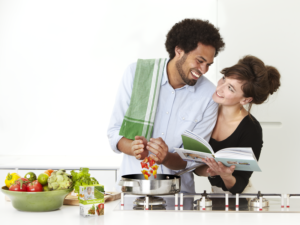 Paradoxically, while we may be more connected online, many of us are becoming less connected offline. How often do we see couples at a restaurant looking more at their cell phones than at each other. Think about kids (and parents!) on their cell phones at the dinner table! To battle this phenomenon, I give you: FOOD! When we open our tables, we welcome the opportunity to build relationships, love and trust. Creating and enjoying a meal together can unite us in extraordinary ways.
I recently read an article about the mental health benefits that cooking and baking have on people with depression, anxiety, substance abuse, and a large variety of other diagnoses. A treatment center in Connecticut uses cooking classes to get teens redirected an on a path. Jacqueline Gollan, associate professor of psychiatry and behavioral sciences at Northwestern University Feinberg School of Medicine in Chicago says cooking can help alleviate depression by boosting positive activity, increasing goal-oriented behavior and curbing procrastination and passivity. (Read full article online at http://www.wsj.com/articles/a-road-to-mental-health-through-the-kitchen-1418059204). It got me thinking though, why wouldn't the same benefits apply to couples who are struggling in their relationship?
Let's think about it! Cooking together allows us to be more adventurous (has anyone tried making an Ethiopian dish lately?). It gives us the chance to show we care, as eating good foods is form of nourishment we all need to survive. Co-creating a meal together can build cooperation and communication. Above all, cooking is just plain fun. As stated by one particularly cute food blog: "It solidifies the notion that the two of you are a partnership and shows that you care about taking care of each other." -Casual Gourmet
So crank up the music, pull out that fancy blender you got at your engagement party from some distant cousin, and get to it. You have the opportunity to create something together. And just in case it fails, be sure to have pizza delivery on speed-dial.