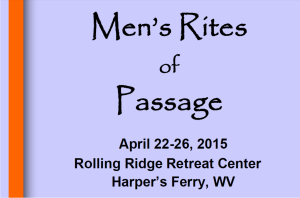 Men, want to nurture a deep open-hearted spirituality based upon timeless wisdom that can guide you in living a generative life? Men As Learners and Elders (MALES) of the Washington DC Region will host a Men's Rites of Passage (MROP) near Harper's Ferry, West Virginia, from Wednesday afternoon, April 22, 2015, through Sunday afternoon, April 26, 2015.
The experience is like jumping into a life-changing stew where you simmer for five days in a mix of silence, nature, and powerful ritual in the company of like-minded men. It is about coming to trust that there is something much greater at work in your life than you ever imagined. That trust creates the possibility of breaking open your heart, allowing you to see new opportunities for yourself in this life, and initiating a soulful exploration that will percolate within you and guide you for years to come.
The MROP was originally designed by Fr. Richard Rohr, the well known Franciscan priest and author. While the experience primarily draws from the Judeo-Christian tradition, it also integrates the teachings, symbols and rituals from other religions and cultures.