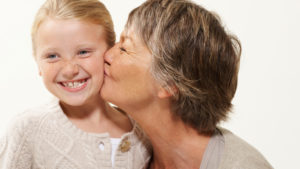 No one ever tells you how much your heart will swell upon becoming a grandmother. Research studies have determined that women who have grandchildren geographically close by, and are involved in their lives, live longer.
It is no surprise to me. But the benefits go both ways in this relationship. A study by the London School of Economics stated that the major conclusion of a review of 45 studies of families around the world found that a child is more likely to survive and flourish if the mother has help from a relative, but that relatives differ in whether they are consistently beneficial to children or not. Maternal grandmothers have the biggest effect on child survival.
As families spread out geographically the nuclear family has more pressures placed squarely upon it. Yet, it continues to be true that extended family is very important to the well being of children. In the age of two working parents, this could not be more vital.
In addition to nurturing their own grandchildren, grandmothers around the world may feel the responsibility for making the world a better place for the next generation. As female world leaders become more the norm, we hear this echoed in political rhetoric. The need to nurture extends beyond our own children and grandchildren to meet the global needs of all children.
Stanford University's Institute for gender research even has a program for activist grandmothers. They boast a generation of grandmothers who are fighting in 15 countries and 5 continents to change the world for the better.
Grandmothers in Canada, Swaziland, and South Africa collaborate to care for AIDS orphans. Grandmothers in Senegal convince communities to abandon female genital mutilation. Grandmothers in India become solar engineers and bring light to their villages while those in Peru, Thailand, and Laos sustain weaving traditions. Grandmothers in Argentina teach children to love books and reading. Other Argentine grandmothers continue their 40-year search for grandchildren who were kidnapped during the nation's military dictatorship. Irish grandmothers teach children to sow seeds and cook with fresh, local ingredients. Filipino grandmothers demand justice for having been forced into sex slavery during World War II. Guatemalan grandmothers operate a hotline and teach parenting. In the Middle East, Israeli grandmothers monitor checkpoints to prevent abuse and the UAE's most popular television show stars four animated grandmothers who are surprised by contemporary life. Indigenous grandmothers from thirteen countries conduct healing rituals to bring peace to the world
Being a grandmother does make your heart swell and changes your life in important ways. In this age of difficult political interactions, it is good to know that simple acts of love and generosity are happening everyday and what connects us is more important than what divides us.