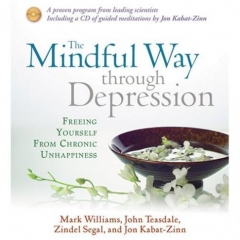 "The Mindful Way through Depression: Freeing Yourself from Chronic Unhappiness" (2007) by Williams, Teasdale, Segal, and Kabat-Zinn, is a resource worth knowing about for anyone who suffers from depression.
The first part of the book artfully discusses depression and educates the reader about symptoms and treatment. It is a collaborative effort on the part of the authors who include a professor of cognitive behavioral therapy, a psychiatric researcher, and a clinical psychologist. The second part of the book is dedicated to mindfulness, introducing the reader to basic concepts and presenting exercises to try. This section is primarily written by Kabat-Zinn, who is a leader in the mindfulness field and is Professor Emeritus of Medicine at the University of Massachusetts Medical School.
The authors weave together the psychotherapeutic treatment for depression with the coping strategies of mindfulness in an integrative process. The text also comes with a CD of guided meditations by Kabat-Zinn, which is very useful.