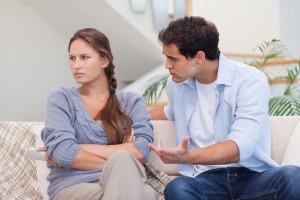 In my practice as a couples' counselor for premarital and married couples, I often encounter the myth that marriage should always feel like an exciting, bliss-filled love-fest with your best friend and soul mate. If, god forbid, you find yourselves grating on each other's nerves, or fighting a lot for a period of time, or simply bored, then your relationship is doomed. This week, I found myself refreshed to read a first-person narrative in the New York Times ("The Wedding Toast I'll Never Give") on marriage, with all its ups and downs.
"At weddings, I do not contradict my beaming newlywed friends when they talk about how they will gracefully succeed where nearly everyone in human history has floundered. I only wish I could tell them they will suffer occasionally in this marriage — and not only sitcom-grade squabbles, but possibly even dark-night-of-the-soul despair.

That doesn't mean they are doomed to divorce, just that it's unlikely they will be each other's best friend every single minute forever. And that while it's good to aim high, it's quite probable they will let each other down many times in ways both petty and profound that in this blissful moment they can't even fathom.

But I would go on to say (had I not by that point been thrown out of the banquet hall): Epic failure is part of being human, and it's definitely part of being married. It's part of what being alive means, occasionally screwing up in expensive ways. And that's part of what marriage means, sometimes hating this other person but staying together because you promised you would. And then, days or weeks later, waking up and loving him again, loving him still."
Finally, some straight talk on marriage! There's a lot of black-and-white thinking out there about marriage, and Hollywood ideals of long-term romantic love, which often feel difficult for "real-life" couples to live up to. I often feel that living in the digital age makes things even harder, as we look longingly at our friends' and acquaintances' lives on social media and wonder, "Why can't my own relationship be as perfect?" Take heart in the fact that there is no such thing as perfection, and that marriage, like life, is all about saying "yes" to whatever obstacles come our way.