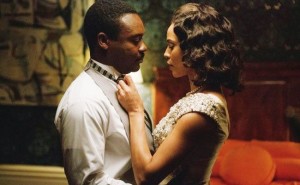 Recently I saw the movie "Selma."  The movie heralded the life of Dr. Martin Luther King, Jr. during the initial phase of racial desegregation in the United States.  In an attempt to ruin Dr. King's integrity, the movie depicted a scene in which Mrs. King had received a tape recording with "evidence" of his marital infidelity.  She asked him if he loved her and he responded, "yes."  She then asked him if he ever loved any of the others [women].  He paused for a noticeably long period and then responded, "no."  There were several young women (they seemed to be in their 20's) sitting behind me and I overheard one of them comment, "huh, sure took him a long time to answer."  The young woman's comment prompted me to reflect upon Dr. King's long pause to his wife's question, not within a context of whether or not he actually had an affair, but rather within a context of relationship dynamics.
As I counsel couples, I have learned that affairs make sense.  While I do not condone affairs, I have grown to understand that the revelation of an affair can expose some emotional deficits that are crucial to sustaining significant relationships in our lives.  It makes sense that we seek that which we feel will fulfill our needs.  It makes sense that we place ourselves in situations, whether life-giving or dysfunctional, which give us that emotional rush for which we have so longed.  As couples grapple with the pain and hurt of an affair, I encourage them to breathe and to try to sit in the silence of their pain and hurt.  Oftentimes, it is within the long pause of silence that they are able to begin to embrace the totality of their feelings – the pain, the hurt, the guilt, the anxiety, the embarrassment, the resentment, and even some level of excitement.  Questioning someone regarding their feelings of love towards another requires openness to the spectrum of feelings and emotions that reside deeply in that person.  Truth-be-told, slam-dunk reactions to this type of questioning typically yield a slammed dunking of the relationship.
The Apostle Paul suggests that 4 Love is patient; love is kind; love is not envious or boastful or arrogant 5 or rude. It does not insist on its own way; it is not irritable or resentful; 6 it does not rejoice in wrongdoing, but rejoices in the truth. 7 It bears all things, believes all things, hopes all things, endures all things. (1 Corinthians 13:4-7, NRSV)
If love encompasses the emotional dynamics as suggested by the Apostle Paul, it makes sense that we should allow for an extended pause as we reflect upon our true feelings of love towards the other.  Love is complex and relationships are not always easy.  Sometimes taking the time to pause before we articulate our feelings of love enables us to not only create an empathic bond with our partner, but also a new relationship with self.