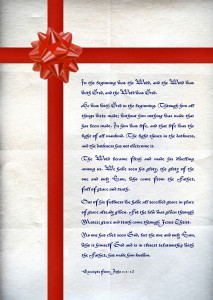 I preached from the lectionary text John 1:1-18 on the last Sunday of 2014.  The text introduces Jesus within the context of the Word: "14 And the Word became flesh and lived among us, and we have seen his glory, the glory as of a father's only son, full of grace and truth. (NRSV)"  I was particularly intrigued by this verse of the text because of its implication that there are connections between being in relationship with others, the embodiment of grace, and the revelation of truth.
This New Year has brought several couples and individuals into counseling sessions grappling with the notion of personal identity as they seek ways to be authentic in their significant relationships.  Their desire to be who they are is oftentimes fraught with anxiety and fear of being rejected, shamed, blamed, or criticized.  So, it makes sense that they would retreat and self-degrade because they don't feel safe to express their personal truth.
I reference the text from John to suggest that "grace" might be considered as a spiritual intervention for anxiety as you may grapple with trying to be who you are.  The text states that Jesus came into the world to develop relationship with others and enabled those with whom he interacted to experience grace and truth.  I believe that one of the ways in which grace can be perceived is through the lens of courage that enables us to be our authentic selves.  Its not easy standing up for who you are as others try to cast you in a mold that makes them comfortable.
But, this New Year gives you an opportunity to receive the excitement of a new beginning and realize the possibilities of stepping into the personage of your own authentic self.  Whatever your faith tradition, if faith is the bedrock that provides the energy for you to receive grace, I encourage you to tap into it.  Develop the courage to be who you are, live your own truth, and become the person that you were created to be.
A New Year, a New Grace, a Brand New You!