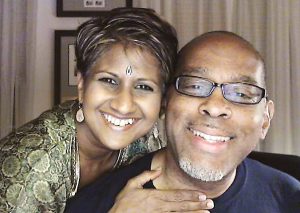 Hello! Let me introduce myself: I am Anne Contee. Together with my husband Barry Contee, we invite you to join us on a lighted-hearted journey of healing and deep connection. I am a storyteller and enthusiastic facilitator. My optimistic, self-confident view of the world is not merely one in which the glass is half full, but overflowing with awe and wonder. Details are important to me. Creating comfort and hospitality are my second nature. These traits stem in part from my cultural roots in India. I was born and raised n Mumbai, while Barry is a native Washingtonian. We share the joy and triumphs, as well as, the challenges of an inter-racial marriage. While Barry tends to be reserved, his shy approach masks his sly sense of humor. I abound with energy and delight.
During the workshop, Barry and I will share with you our journey of navigating our differences and creatively repairing relational ruptures when they occur. We will be both your guide and your living model of what the intentional relational paradigm looks like.
We are deliberately offering an affordable workshop experience as an introduction to a more profound understanding of Imago Relationship Therapy. Imago utilizes a dialogical process where couples benefit from the wisdom of practicing a series of structured dialogues. The workshop is an educational insight into the dialogical process. Six weeks or dialogue practice provides you and your partner with an opportunity for a deeper connection, a chance to ignite a spark in your marriage or relationship. It is also a powerful way to connect with other couples and learn these tools in a safe communal setting. Join us for this six-week adventure!
Anne Contee is a yoga & mindfulness teacher and a licensed therapist, practicing in College Park and Bethesda MD. Barry Contee is a lead instructor for Maryland Emergency Medical Technician and Paramedic education at Prince George's community college and public school system. He has been a devoted paramedic volunteer for rural communities in Maryland for 30 years.
Discovering a New Way to Love: A Couplehood Workshop for Healing and Deepening Connection
October 4th-November 8th  7 pm- 8 pm  $30 per session or $180 for six weeks
4912 Berwyn Road College Park, Maryland 20740 To register call 443-254-2312